Suomeksi
Jekku:
Pikikuonon Special Edition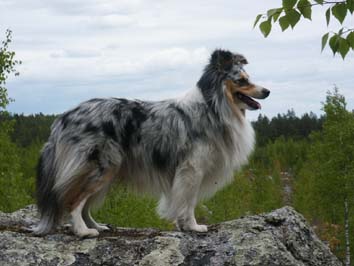 Born: 19.8.2001

Died: 4.5.2010
(Tumors in neck)

Size: 38cm
Sex: Male (castrated)

Eyes: In left eye was mild coloboma.
Hips: A/A (ok)
Knees: 0/0 (ok)
Elbows: 0/0 (ok)
Else: Both P4's was missing in lower jaw (front of eyetooth).

Aki and Jekku start practice agility in fall 2002.
First we practice in Mikkeli Agility Racing Team,
but because of moving we shift in Laukaa.

Jekku was 2nd in sheltie agility championship competition at 2007.
Back to dog list.